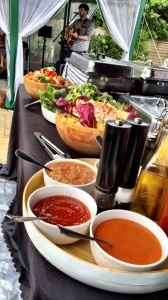 With many years of experience in providing first-class catering both locally and nationally, Hog Roast Barnsley is the wisest choice you can make when it comes to planning your own party or event. With us at the helm, you and your guests will be treated to tasty dishes made from quality, local ingredients, and you can even relax with your guests, with us preparing and cooking the food and even discreetly clearing away afterwards. Hog Roast Barnsley only uses fresh ingredients to make food that doesn't just taste great but looks and smells great, too, regardless of the kind of event that you need catering. From small, informal private parties with a few people to huge corporate functions with hundreds of guests, our highly-trained, dedicated chefs and team members greet customers with a smile and attend to every whim professionally, and we have comprehensive menus to suit all kinds of tastes and diets.
Your Party, Your Food, Your Choice
When you're organising something special, you need to know that you're in capable hands and that all of your guests can enjoy the food being served, and not just the majority, and that's why we offer a great deal of variety and choice. Hog Roast Barnsley is more than happy for our customers to create their own menu or choose one of ours, or even mix and match items from several menus. If you'd rather enjoy a spit-roasted bird or animal, have us serve a barbecue instead, or add sides and salads to your meat, that's fine with us. You can have one course or several, and we even offer plenty of options for any guests with dietary needs. Whatever you want or need, we've got it covered.
The Best Hog Roasts In Barnsley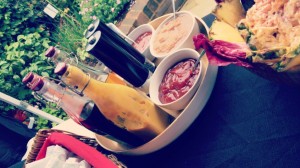 Hog Roast Barnsley is renowned for our sumptuous hog roasts – after all, we're named after them! – but that's because they really are the best hog roasts in town. We've perfected our hog roasts over a long time, using our own top-quality hog roast machines, which ensure great taste each and every time, once we've lovingly prepared the meat and then roasted it for hours on end. It looks fantastic and will impress your guests while it's sizzling away and the incredible aromas it creates will have everyone's mouths watering, but just wait until you taste it. Then you'll realise why they're known as the best in town.